👋 Hey! Before you read the article we just wanted to say thank you. Your on-going support, love and feedback on our articles as well as browsing our independently picked recommendations (which earn us a commission and help pay our passionate writing team) keep this little independently owned business going. So again, thank you. We look forward to showing you the magic we can bring in 2018!
Celebrating a baby arrival always brings only joy and baby shower is probably one of the most positive, uplifting and happiest events! In the USA, this is a tradition that people practice almost without an exception. Although the whole celebration brings only smiles to the faces of the visitors, family, and parents, gifting is the most exciting part!
If you are attending a baby shower anytime soon, you are probably thinking of what you could get. Depending on how practical you want to be, there is a wide range of great gifts that you could consider. You surely want to stand out from the rest but you need ideas and we are here to help you out!
Personalized
When thinking about baby shower gifts, you can always think about the preferred kind of presents you usually like to receive. It could be your birthday or a special occasion but personalized gifts coming from the heart are always the most special ones! Yes, the occasion and the taste of you and other people can range but these types of gifts never go out of fashion. If the mom sees you've put a lot of thought and effort into the gift, it will certainly be her favorite one. Going to the nearest shop and buying a basic present is the easiest thing to do but is far from the most original. The smallest present with a lot of love means more than a giant one without it.
One survey concluded that personalized gifts or so-called "coming from the heart" gifts are preferred by most people, including moms for their little ones. Therefore, this is a green light for you to think deeply about her preferences, needs, and taste and get something that she will love.
The opposite of those that think tirelessly about a perfect gift are those that simply want the mom to buy whatever she likes and needs for her baby. That isn't a bad option either if you are not good with surprises. You will do your part and mom will surely find the best way to use your gift. There won't be a risk of you buying something unnecessary and basically, all you need to give is money. This option is not so appreciated by people who enjoy gifting and making people smile but it is very practical.
Mother Related
There will be a lot of baby gifts on the baby shower so you might want to do something different and gift mom directly instead. The whole pregnancy, labor and new life as a mother cause a lot of stress and exhaustion so paying for a spa treatment, housekeeper, comfortable clothes, pregnancy pillow or a short getaway when she is able to travel will serve as a great relief and personal help. She will need a lot of strength and patience in the months to come so any sort of relaxation is more than beneficial.
We wouldn't be real assistants if we didn't make a list of gifts you can buy and surprise everyone at the baby shower, especially the mother-to-be! Following are our 12 best picks on Amazon.
Everything a mom needs, packed nicely in a bag-looking kit is an extraordinary way to help her out with one of the most important and frequent tasks – changing the diaper. A baby doesn't choose time nor place for anything. That being said, the mother can be in a very unpleasant situation without the right equipment. This kit is a completely safe, lightweight and portable storage for diapers, creams, wipes, baby oil, toys or just anything that will come in handy. It consists of a detachable changing mat, zippered inner pocket, slick pocket and mesh pocket with Velcro.
Furthermore, the product has many positive comments and customers point out that it's especially useful during road trips. With this pad, trips will no longer be problematic. The same applies every time a parent goes out with a baby. That doesn't mean future mom shouldn't use it indoors. It is as great to use at home and avoid washing expensive pads or even furniture.
Waterproof
Detachable mat

Possibly not spacious enough

If you've been looking for special baby shower gifts, you just found one! Meaningful items have a special charm and can touch mother's heart the most. This kit allows baby's handprints to stay engraved forever! With enough space for two baby pictures and the handprints, this gift is unique because it will last and be significant even for the baby in the future. You know how valuable our baby pictures are, imagine having a footprint or handprint!
You can pick the color of the frame (black, brown, white) according to the walls of parents' house. It is made of solid wood and clear glass, making it very elegant and easy to adapt to different environments. Be sure that this frame will soon be hanging in the living room as the best memory baby's first months.
Lifetime warranty
Comes in a gift box
No mold

We can all agree that baby shower cannot go without baby clothes and you probably had that on your mind as well. Now, an advanced option is buying a whole high-quality set that includes 5 ONESIES & 2 sleep n' play, 5 caps, 3 terry bibs, and 4 blankets! You will secure the mom perfectly because, with all these pairs, she can change the baby as often as necessary without running out of clothes nor blankets. Also, the full body zipper makes it easy to take off and put on.
You can choose one of the 5 colors that the set comes in or buy the full white set, depending on your preferences. By reading the materials (100% Cotton; Bibs: 80% Cotton/20% Polyester), we concluded and customers confirmed that they are very comfortable and baby will enjoy wearing any of the pieces.
Durable
Soft
Elastic
Adjustable ribbed cuff on caps
Soft neck closure on bibs

Recommended for 0-3 months only

Just when we thought babies can't get any cuter, turns out they actually can! Whether the mom likes accessories or not, this set is going to make her melt once on the body of her newborn. You can buy a single pair or a set of 3 pairs, which is more recommended when the baby gets changed or similar. With 3 of these blankets with headbands, the newborn will be always the cutest! The designs are mostly floral but come in different colors that you can choose from. The blanket and headband are great for the body shaping and the safety. Moreover, the material is soft and stretchable so the baby won't feel uncomfortable at any moment.
Headband possibly too large

Apart from being extremely cute, baby socks can be very useful to the parents and that's what they appreciate the most. Eventually, some of them even end up hanging those socks afterward because they are just too adorable! You don't have to buy giant presents in order to stay remembered. Little things bought with love mean so much more than basic expensive gifts, bought for the sake of the event. We found a pack of 5 pairs on Amazon at a great price and they look truly amazing! With 95% cotton and 5% nylon, these socks seem to be very comfortable as well. This cuteness packed in a stylish gift box is easily available for you and you can check it out now. Finding the best baby shower gifts doesn't seem so difficult anymore, right?
Recommended for 0-3 months only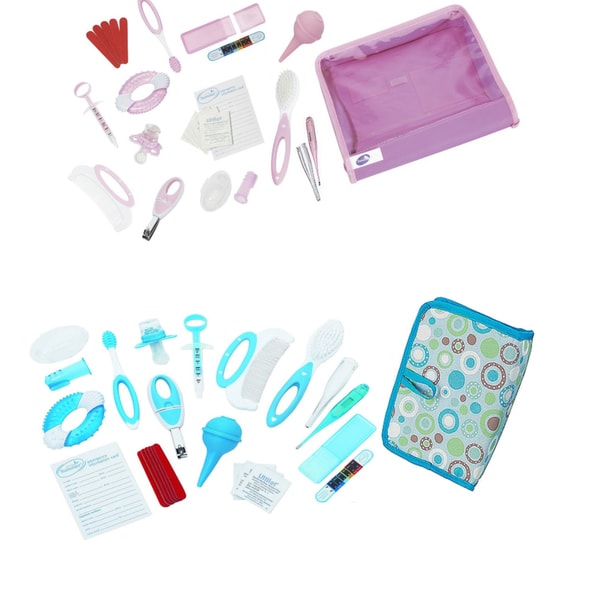 Coming from the best seller on Amazon, this kit consists of 21 useful items that every mother needs. It includes pacifier medicine dispenser, medicine syringe, nasal aspirator, digital thermometer, forehead thermometer, emergency information card, emery boards, nail clippers, brush and comb, gum massager, teether and finger brush. The safety, health and hygiene are top priorities for parents so they will be very satisfied with this gift.
Comprehensive health care and hygiene kit
Lightweight

The brush might be too firm

Many comments about this product say that they bought it as a baby shower gift as well and that the reactions were amazing! By reading the details about it and seeing its adorable picture, we are sure that it would be a good choice for you too. Apart from looking super cute, it is very soft and perfect for a little gentle baby. Bearington Baby, the designer company, won several awards for the quality of their products, which makes them reliable.
There is a wide range of different snugglers apart from the puppy one we listed. From a lamb, bear, fox to Santa and monkey, it is a temptation not to buy all of them!
Made of satin
Ideal size for a baby (15")

In case you are not a parent yourself, you've probably seen a lot of parents responding with "24 months" instead of "2 years" when asked about their child's age. That is one of the things that they do very often and that's why these age blocks are an extraordinary gift! Parents will use it as some sort of a calendar and keep changing the numbers by weeks and months, or they can take pictures of their baby next to it to always remember the exact age from the photo!
It is a wooden product with eco-friendly, plant-based plants so there is no way to be harmful. It comes in a neutral, blue and pink color that can symbolize the gender of the baby as well.
Combinations up to 1-40 weeks/months
Eco-friendly

Package is not sealed or taped so it could get damaged during the shipping

Car seat is probably one of the first things parents buy for their infant, maybe even before its birth. This time, you can be the one surprising them with it! This specific product has the best reviews and a long list of praising comments due to its quality, weight, and other benefits. It is crash tested and meets and exceeds the highest USA safety standards. It is compatible with Click Connect Stroller, the next item on our list.
Compatible with Graco Strollers
One-step secure attachment
SafeSeat Engineered

Moderately expensive
Too warm for a baby during summer

Graco really went beyond everyone's expectations with all the practical products for babies, including this stroller. It accepts all Graco Click Connect baby car seats that are easy to attach and very stable. This stroller has 3 wheels with air-filled rubber tires, locking front swivel wheel, it folds rapidly and has spacious storage pockets. Customers also describe it lightweight and point out they would buy it ten times over if necessary!
One-second, one-hand fold
Automatic storage lock
Locking front swivel wheel

Large
Possibly difficult to navigate

After the car seat listed above, you might want to consider also buying a baby car mirror. These two can go separately or together. Parents must secure their children during the drive but they cannot always see it, which is quite concerning. With this mirror, they will always have their eyes on the baby, without having to look behind the seat and put themselves in danger.
Easy to install
Wide angle
Adjustable
Compatible with most vehicles

Nowadays it is far easier to raise a child than it was only a couple of decades ago. That is because now we have an opportunity to use all kinds of innovative tools that we didn't have before. One of them is Boba 4G Carrier, a practical tool that will enable parents to do some tasks or simply walk around while carrying their baby effortlessly. It is as comfortable for a parent as it is for a baby. They can adjust it from the back or front so both parents can use it, regardless of the size of their upper body.
This product is recommended for 7 pounds to 45 pounds infants and is made entirely of cotton. It also has multiple pockets and a bag strap holder so parents won't have to struggle with full hands. The package includes all the accessories and how to use instructions and a warranty registration card.
Adjustable chest strap
Multiple pockets
Bag strap holder
Removable foot straps
Ergonomic support

Not recommended for petite people

Product Name
Image
Price
Features
Rating
Crystal Baby Smile Portable Changing Pad
$$$
Diaper Clutch, Portable, Lightweight, Waterproof

★

★

★

★

½



Baby Handprint Kit by Little Hippo! SPECIAL NO MOLD VERSION!
$$$
Durable, Lifetime Warranty

★

★

★

★

½



Gerber 19 Piece Baby Essentials Gift Set
$$$
19 Pieces Set, Soft, Elastic, Comfortable

★

★

★

★

½



habibee Newborn Swaddle Blanket Headband with Bow Set Baby Receiving Blankets
$$$
Fits 0-3 Months Babies, Elastic, Soft

★

★

★

★

½

Fly-love® 5pairs Animal Non-Skid Slip Toddler Socks
$$$
5 Pairs, Elastic Closure, Anti Slip

★

★

★

★

½

Summer Infant Complete Nursery Care Kit
$$$
21 Health Care and Hygiene Items, Synthetic, 0-12 Months

★

★

★

★

½

Bearington Baby Waggles Snuggler, Plush Puppy Dog Security Blanket
$$$
15", Soft, Made of Satin

★

★

★

★

½

Premium Solid Wood Milestone Age Blocks
$$$
1 Rectangle Block & 2 Square Number, Wooden, Eco-Friendly

★

★

★

★

★

Graco SnugRide Click Connect 35 Infant Car Seat
$$$
For 4-35 Pounds & 32'' Infants, One-Step Secure Attachment, SafeSeat Engineered

★

★

★

★

½

Graco Fastaction Fold Jogger Click Connect Stroller
$$$
Compatible with All Graco Click Connect Infant Car Seats, 3 Wheels, Locking Front Swivel Wheel

★

★

★

★

½

Sonilove Baby Car Mirror
$$$
Easy to Install, Wide Angle Convex Mirror, Lightweight

★

★

★

★

½

Boba 4G Carrier
$$$
100% Cotton, Supports 7–45 Pounds, Fits Adults 5 feet–6.3 feet, Bag Strap Holder, Adjustable Side Straps

★

★

★

★

½
Conclusion
Buying a baby shower gift is not as easy as it seems if you are longing to get a memorable present that is also original and practical. You have to consider several factors while making your final choice and one two of the most important are the needs and happiness of the mother and the baby. We offered different options that cover these two points, now it's your time to decide.
Of course, you are the one that knows what those specific parents like. Therefore, you can recognize which one of our suggestions would be the best for them. Above all, remember that what you give with a lot of love will be received with even more love. The simple fact that you took the effort to look up this topic makes it obvious that you care about the happiness you can bring with a perfect present. We hope our article helped you and now you know exactly what your baby shower gift will be!
Check out these articles too: