👋 Hey! Before you read the article we just wanted to say thank you. Your on-going support, love and feedback on our articles as well as browsing our independently picked recommendations (which earn us a commission and help pay our passionate writing team) keep this little independently owned business going. So again, thank you. We look forward to showing you the magic we can bring in 2018!
Best Baby Bassinets
Babies spend most of their time sleeping, and if you want to put your baby down for a nap or play time, you want to know that they are in a safe place.  For this, bassinets are fantastic.  Many of them also have features like night lights or music or toys to keep your baby entertained.  Others come with a swivel or adjustable side wall so you don't need to get out of bed to take your baby out of his or her bassinet. Read on to find out if you need one and your options!
Do You Need A Baby Bassinet?
There are a few reasons why you would consider buying a bassinet.  First is co-sleeping.  Most parents buy a bassinet for co-sleeping with their baby, meaning, sleeping in the same room with them.  This is for safety reasons. Many parents feel more comfortable knowing that their baby is next to them all the time, and it's convenient for night-time feedings.
If you've recently had a C-section, bassinets are lovely.  It's so much easier to have your baby next to you opposed to in something like a crib.  Simply lean over and tend to your baby.  There are bassinets with adjustable walls and swivels for this purpose.
Sometimes, portability is a concern.  If you travel, a crib is not really something you want to be traveling with.  Even around the house, you don't typically wheel around a crib.  Rather, a bassinet is very portable.  Most of the time you can just wheel them around the house which is a benefit for parents who don't want to carry their babies around all day.  On that note, bassinets help prevent a lot of the issues associated with carrying your baby around too much and allows you some space.
Inside the bassinet, your baby will appreciate a nice mattress or fitted sheet to rest on.  Aside from it being soft and comfortable, look for one that's machine washable.  Babies have accidents.  It'd be much easier if you can clean it up in the washer than have to go the expensive route and buy a new mattress or sheet.
Finally, bassinets are more than just a crib or a play chair.  They may have changing table adaptions or play chair adaptions. Again, this gives you space while you can be sure that your baby is safe playing in his or her bassinet.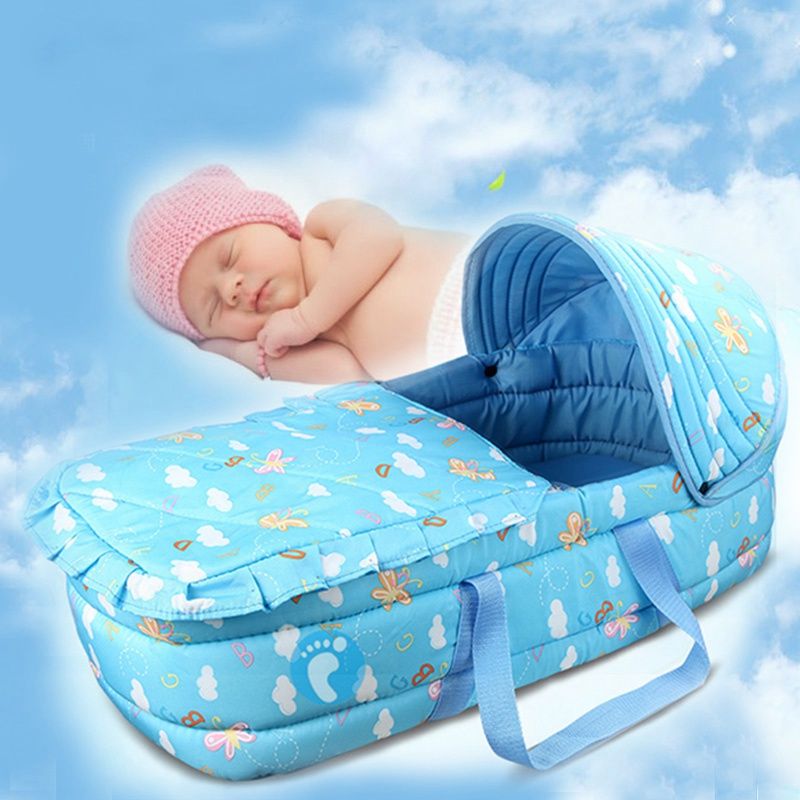 What To Look for In Baby Bassinets
Buying a bassinet can be a challenge if you don't know what you're looking for.  So, here are some things you should consider.
First, think about functionality.  Some have pockets or spots for storage underneath where you can keep diapers, wipes, and clothes.  Others have a changing table or turn into a bedside sleeper.  If you plan on carting around your baby in the bassinet, these are great features you might want to look for.
Building off that idea, think about movement.  Some bassinets can turn into a cradle by retracting or restricting the wheels.  While other models allow for gliding with the wheels are stationary.  Some other bassinets have a swivel function for wheeling your baby towards you during the night.
Perhaps you'd like your baby to play in his or her bassinet while you cook dinner or something.  Many bassinets double as a playpen with detachable mobiles or canopies with toys attached.  Sometimes they even vibrate or play music.  This will keep him or her entertained until you come back.
Best Baby Bassinets Summary Table
Product Name
Image
Price
Features
Amazon Rating
Graco Dream Suite Bassinet
$$
changer to napper conversion, rest station, integrated storage pockets, playard

★

★

★

★



Halo Bassinest Swivel Sleeper Bassinet
$$$$$
360 rotation, 4-point base adjustment, easy storage, soft cushion

★

★

★

★



Arm's Reach Concepts Mini Ezee 2-in-1 Bedside Bassinet
$$$$
mesh sides for breathability, 4-inch nest height, attachment strap, resistant plate

★

★

★

★



BABYBJORN Cradle
$$$$$
rocking motion, low height, transparent mesh fabric, portability

★

★

★

★




★

Graco Dream Suite Bassinet
$$
reversible bassinet and changer, 2 speed vibration, locking wheels, portability

★

★

★

★

Fisher-Price Auto Rock 'n Play Sleeper
$
sleeper and playtime, comfy incline, hands-free rocking, 12 songs and 3 sound effects

★

★

★

★

Summer Infant Soothe & Sleep Bassinet with Motion
$$
quilted bassinet, 4 songs, 2 nature sounds, 1 womb sound, and vibrations, large storage basket, canopy

★

★

★




★

Delta Children Sweet Beginnings Bassinet
$
adjustable and removable canopy, nightlight, soothing music, fitted sheet, sturdy steel frame

★

★

★

★

Serta iComfort Infant Sleeper
$
Large design, night light, lullabies, nature sounds, sturdy frame, foldable, mesh side panel

★

★

★

★

Badger Basket Wishes Oval Bassinet Full Length Skirt
$
canopy, foam pad, removable and washable liner/skirt, storage, wheels, metal frame

★

★

★

★
We absolutely love this bassinet.  Its reversible function from the changer to Newborn Napper gives you twice the benefits for one affordable price.  The Newborn Napper makes a nice space for your newborn to rest.  Then when it's time for a changing, the easy clean changing table allows you to conveniently clean it up with a wipe from the storage pockets.  This product also comes with a toy bar with soft toys and an attractive design that'll fit any household.
Product Weight: 28.3 pounds
Product Dimensions: 40 x 28.5 x 34
Reversible bassinet and changer all-in-one
Two speeds of vibration to choose
Extended use changer
Canopy for Shade
Affordable
Takes up space
Mattress may sag
Challenging assembly
This little bassinet is one of the most convenient options.  It rotates 360 degrees to bring your baby right next to you in bed.  It features an adjustable side wall, rotational system, adjustable yet stable base, and customizable options.  If you are recovering from a C section or just want to have your baby close to you while you sleep, this is your best option.
Product Weight: 47.6 pounds
Product Dimensions: 35 x 19 x 12 inches
Safe and sturdy setup
Rotational base allows for easy access without getting out of bed
Adjusts to many bed heights
Comfy matress for your baby
Product may tilt
Small basket
Heavy basket
A classic favorite, this bassinet still doesn't disappoint after its 20 years on the market.  Its a safe option for your infant, built to the needs of the customers.  It features good ventilation for breathability, simple assembly and portability, side pockets for storage, 4-inch sleeping nest height, and an attachments strap and resistant plate.
Product Weight: 24.2 pounds
Product Dimensions: 21 x 31 x 34 inches
Good size
Great storage
Oractical for co sleeping
Quick and easy assembly
Comfy matress for your baby
Lock/Unlock on the guard rail are difficult
Slanting mattress
This attractive cradle is one of our favorites.  It soothes your baby to sleep as it rocks gently in a comfy cradle.  It's designed specifically to help your baby sleep.  The no-bar design allows for a breathable and roomy space for your baby.
Product Weight: 13 pounds
Product Dimensions: 31 x 23 x 26 inches
Mesh sides for ventilation
Easy cleaning
Safe materials
Easy transport
Light Design
Attractive design
Only good for small babies
Safety issues
Jerky movement
If you're looking for an all-in-one bassinet, this is a great option.  It comes with an extended use diaper changer, push-button lock, storage, 2-speed vibration for soothing your baby, and customizable design options.
This bassinett is great for babies of all sizes as it accompanies them.  The product itself also takes up very little space while you keep your baby closer overnight or for naps.  Then perhaps the biggest asset is the ease in transport around the house!
Attractive
Sturdy
Easy transport
Simple reverse
Affordable
Saggy storage bins
Replacement sheets don't completely fit
Wobbles
This simple bassinet is great for all times of the day.  When your baby needs to sleep, take a nap, or wants to play, leave your baby in safety in the Play Sleeper.  It will confine your baby to safe movements while comforting him or her with the use of songs and light rocking.
Worried about your baby growing out of it?  Don't worry!  This product will accompany your growing baby for months!
Soothing
Slight angle for babies with acid reflux
Comfortable matress
Confined matress
Easy to fold
Noisy
You have to scroll through songs to get the one you want
Hard to disassemble
Band in motor breaks
If you're having a little girl, this is a bassinet you may be interested in.  It has many features your baby will love.  One neat part is the music box that plays four soothing songs, two different nature sounds, and one womb sound.  Meanwhile, it rocks with soothing vibrations.
This is a safe option with a large storage basket and adjustable canopy for both indoor and outdoor usage.  The wheels on the bottom allow for easy movement around the house. The interior is soft and comfortable.
Cute design
Sturdy design
Nice use of space
Comfortable
Affordable
Difficult assembly
Gets very hot
Hard to set up music
Delta Children Sweet Beginnings Bassinet is designed for infants up to 15 pounds.  It has an adjustable canopy for outdoor use on a sunny day which you may also remove for indoor use.
The sleeping area has a fitted sheet, comfortable for your baby.  The frame is lightweight and doesn't take up too much space. Beaneath the bed are two storage section for all of your baby's supplies.
Trustworthy with no defects
Easy to snap cover over the frame
Simple assembly
Great quality
Portable
Thin padding
Low-Hanging storage
Factory errors
If you're looking for a simple bassinet for your baby to keep in your bed, this is a fantastic option.  It comes with many cool elements such as a night light, lullabies and nature sounds.
It's a roomy setup to allow your baby room for growth and movement.  The mesh on the side gives breathing room and good air flow.  To top it off, it folds easy for travel.
Good quality
Sturdy frame
Soft mattress
Roomy
No assembly
Affordable
Requires a flat surface
Flimsy bottom where it folds
This adorable bassinet will make a cute addition to your home.  The bassinet has a canopy, foam pad, and a removable/washable skirt.  Beneath the skirt is a convenient storage basket.
The wheels make for easy transport around your house.  They can be flipped to rock the bassinet like a cradle if you want.  The metal frame is great for super easy assembly.  The bedding just slips right in.
This product is suggested for babies of up to 20 pounds or 3-4 months or whenever the baby can move around in there.
Functional
Sturdy frame
Easy to assemble with simple instructions
Cute Design
Faulty hood
Weak stitching
Cannot hold over 5 months
Conclusion
Hopefully, this guide will help you decide what type of bassinet you're looking for and some great options you may be interested in.  There are many good options out on the market.  It's just a matter of knowing what would work best for your needs and finding a product that suits them.
Check out these great articles too