👋 Hey! Before you read the article we just wanted to say thank you. Your on-going support, love and feedback on our articles as well as browsing our independently picked recommendations (which earn us a commission and help pay our passionate writing team) keep this little independently owned business going. So again, thank you. We look forward to showing you the magic we can bring in 2018!
What are the Best Baby Joggers?
Busy and active parents oftentimes enjoy bringing their babies along for a jog or a hike.  You don't want to have to carry your baby the entire time, and you don't quite want to hassle somebody to watch your kids while you go out for a jog.  Don't worry though!  This is what the best baby joggers are for!
Baby joggers are typically designed and equipped for such purposes which distinguishes them from strollers.  Find out below about how to choose the best baby jogger!
Do You Need A Baby Jogger?
You might be asking, what is the difference between a Jogger and a Stroller?  They look nearly the same and seem to serve the same purpose, right?  The difference is that Joggers are designed for, well, Jogging (or running.)  Joggers suit parents with a more active lifestyle and allow them to bring baby along while they go for a run.
Baby joggers allow you time to bond with your baby and burn calories all at the same time.  Being able to bring your baby along is not the only benefit.  Another is that you have this added weight you're pushing as you jog, which helps you burn more calories.  Also, when you are able to bring baby along for your run, you don't have to worry about finding and possibly paying someone to watch your baby for such a short period of time.
Your little ones will be benefitted by a jogger as well. They'll enjoy the change of scenery and love spending time with you while experiencing the world around them!  As your children grow, this can also set an example of an active lifestyle for them.  This way, in the future, if they should desire to live an active lifestyle themselves, they have the tools and knowledge on how to juggle parenting and athletics just by the example you set forth for them.
What to Consider when Buying a Baby Jogger
So, now that you're interested, you might want to consider a few other factors before making the investment.  How old is your baby?  Joggers are recommended for children aged six months to five years.  Even though most joggers are built to withstand potential shock from the road or trail you're on, there is a jarring associated with it which will be dangerous for infants who cannot hold their heads upright without assistance.
Another consideration is where you intend to jog.  Pavement goes great with baby joggers.  Hikes up mountains do not.  If you intend to go on more vigorous jogs, this may not be for you.  Keeping with the environment, baby joggers are better than strollers with protecting against the elements with a retractable hood.  In a state like California or Arizona where it's almost always sunny, baby joggers are the way to go!
Features to Look for in a Baby Jogger
Not all baby joggers are created equally, and not all will work for your needs.  So, how are they different?  Consider the following in distinguishing the best baby joggers.
1. Tires
Jogging strollers are built to withstand and absorb the impact of the road through their pneumatic rubber tires.  These are air-filled tires with 16 or more inches at the rear and 12 inches at the front wheel in terms of diameter.  Larger wheels will roll over bumps easier and produce less stress. Normal strollers have smaller plastic wheels that don't absorb shock.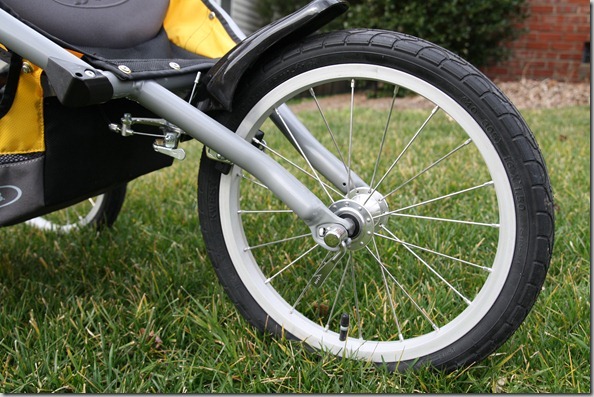 2. Suspension Systems
To reduce the stress associated with rough terrain, good baby joggers will have an effective suspension system.  This comes in conjunction with a sling style seat that also absorbs some motion in jogging.
Having good suspension means smooth strolling over any terrain.  Many joggers have shocks on the rear wheels to reduce jarring and improve the experience. The type of suspension you'll invest in depends on where you plan on running.  Rougher ground obviously needs some stronger suspension.  With this is where you should consider seat padding, as well. Better padding will improve the experience of your baby opposed to a hardboard or hammock seat.
3. Fixed Front Wheel
With a traditional stroller, the front wheel is unlocked to allow parents to maneuver turns and side-to-side motions.  However, when running or jogging, the unlocked front wheel will start wobbling which will cause vibrations that will be very uncomfortable for your baby and you, plus it may cause tipping of the jogger or stroller.  To avoid this, buy a baby jogger with a fixed front wheel for straight, smooth motion.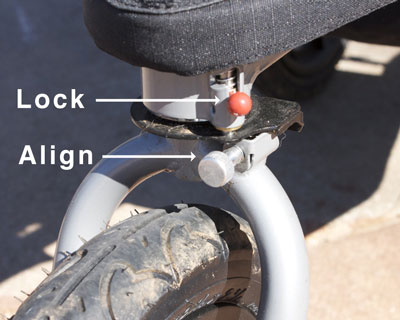 Joggers with a fixed wheel usually come with a handbrake that allows you to stop at stop lights, for example. Some joggers feature a swivel wheel with locking mechanisms that allow the stroller more range in movement.  You may want to consider this type of Jogger if you plan to use it for everyday use as well as running, instead of having to buy two separate products; a jogger and a stroller.
4. Long Distance Between Wheels
Strollers for jogging will push the front wheel forward away from the center of gravity of the baby. The reasoning behind this is that it allows the front wheel to bounce over a rock or something in front of your baby opposed to beneath him or her.
5. Adjustable Features
Most joggers come with adjustable features and options.  For example, adjustable tracking of the front wheel.  Better jogging products will have these to keep the front wheel straight.  Without this feature, your jogger may veer and you'll have to constantly manually right it while running.  This will increase fatigue and frustration.
You should also consider an adjustable handlebar.  Joggers can come with this feature to accommodate adults of varying heights, especially when more than one adult or parent will use the jogger in turns.
Most joggers are built for the average man and woman at around 5'10" and 5'5," respectively.  Some joggers have an adjustable handle to cope with the difference in height which will reduce chances of inefficient jogging, injury, and fatigue.
Finally, you may be looking for some other little features to improve functionality.  By this, I mean cup holders, pockets, snack trays, built-in speakers, and odometers.  Some of these may seem impractical and useless to you, but joggers come equipped with almost everything you could possibly need on a jog.
Now that you know what you're looking for, here is our list of the Best Baby Joggers!
This jogger is a fan-favorite and one of the more affordable options.  It comes equipped with aluminum framing for a light jog, dual trigger folding mechanism for safety, and a few other useful functions.  If you plan on bringing a drink or snacks, no problem!  It has dual cup holders and a tray for snacks or a place to put your key.
For safety, this product comes equipt with a locking front wheel and canopy.  For luxury, it has mounted speakers for MP3 players.  Plus, it has a seat adapter which may accompany a variety of car seat brands.
Product Weight: 31.5 pounds
Front Wheel: Swivel with Locking Mechanism
Handlebar: Adjustable
Convenient cup holder and storage tray
Easy to operate
Easy storage
Great price
Possible manufacturer error in snack holder
The Ironman Stroller by BOB features a fixed front wheel for stability and fast speeds.  It's lightweight to make it easier on your jog, perfect for a long run.  The aluminum alloy wheels are semi-slick, ideal for pavement.
If you plan on using it on vacation, it packs easy and stores tightly in your car. Other perks include the adjustable handlebar, large storage basket, hand activated front caliper brake, state of the art suspension system, and reclining seat.  Not to mention, you can combine the stroller with an infant car seat to make traveling that much more efficient.
Product Weight: 27 pounds
Front Wheel: Fixed
Handle Bar: Adjustable
Large tires
Large canopy
Cushioned seat
Easy to fold and store
The Revolution FLEX Stroller doesn't disappoint.  It's one of the more expensive joggers, but it's worth it.  It's an all-terrain stroller that you can use for children from 8 weeks and up as long as they're under 70 pounds.  It comes with an adjustable handlebar to fit all family members who want to jog with your baby.  It has nine different position options to fit any parent.
This jogger also comes with a swiveling and lockable front wheel for rough terrain.  Add to this the state-of-the-art adjustable suspension system, your baby will have a smooth ride.
If you're not yet convinced, it gets better!  The FLEX Stroller is lightweight and folds in two steps. This makes for easy and convenient transport.
Product Weight: 26.2 pounds
Front Wheel: Swivel with Locking Mechanism
Handlebar: Adjustable
Highly maneuverable
Easy adjustments
Simple tire removal
Cushioned seating
Big cover
Tires go flat
Low quality fabric at foot rest
The Thule Urban Glide was built for urban jogging.  Don't let the pavement stop you from taking your baby on a jog.  It comes equipt with a swivel front wheel for maneuverability, but it also locks into place.  The padded adjustable handlebar allows for a range of parent heights.
To make a smooth jog, it has a number of important features. These include a rear suspension system, reclining seat, and an adjustable sunshade.
For functionality, this jogger comes with a one-handed fold, extra storage, and a window for you to peek in on your child.
Product Weight: 75 pounds
Front Wheel: Swivel with Locking Mechanism
Handlebar: Adjustable
Locks for jogging
Ergonomic handlebar to adjust for parent height
Turn into travel system
Padded seat with vented top for cooling
Handlebar material rips easily
Tires reportedly prone to flats
Another affordable option, this product will provide you everything you need at a great price!  You can go just about anywhere with this stroller due to its highly maneuverable system and all-wheel suspension.
This stroller folds easily for storage and boasts quick-fold, one-handed operation technology.  The wheel lock operation is located on the handlebar, making it easier to lock the swivel front wheel into place without having to bend over.  Hand operated rear brakes allow for more control.
For your baby's comfort, this jogger features a fully reclinable seat and provides an adjustable UV canopy with a peek-a-boo window and side vents.  To acclimate to varying weather patterns, it includes a retractable weather cover.
With storage compartments, safety and comfort considerations for your baby, and ease of use, this jogger is a great, affordable option!
Product Weight: 28.4 pounds
Front Wheel: Swivel with Locking Mechanism
Handle Bar: Not Adjustable
Great suspension
Easily removable rear wheels
Easy to fold up
Light weight
Bulky rear wheels
Poor alignment
**Editor's Choice**
This jogger may be higher in price, but it is well worth the investment!  It comes with an easy one-handed folding capability, safety lock system, and a collapsible motion capability for storage and transport.
This jogger comes with a solstice handlebar console for easy access to storage, bunting bag to keep your child warm, snack bowl and cup holder for convenient snacking for your child, a car seat adapter that fits most major seat brands, a weather shield with ventilated protection, and a rolling travel case that allows you to take your product anywhere!
The seat back is removable and machine washable and features Spring Integrated Technology to prevent tangling of the harness straps.  The seat is reclinable.
With one of the most advanced suspension systems available, easy operation, extensive child safety and comfort considerations, and tons of convenient features, this jogger earns Editor's Choice!
Product Weight: 29 pounds
Front Wheel: Swivel with Locking Mechanism
Handlebar: Adjustable
Easy and quick folding
Perfect fit handlebar
Straps don't get tangled
Adjustable padded seat
Extendable canopy
Difficult car seat adaptor
Car seat doesn't snap into place
The Kolcraft Spring Pro Jogging Stroller is designed for performance.  It has an easy push system with a light aluminum frame.  It rolls on 16-inch air-filled wheels and precision ball bearings to reduce shock.  The fixed front wheel provides a smooth ride for you and baby.
For storage, this jogger includes a large basket, parent tray, and child tray that come with cup holders.  The jogger folds easily for storage.  For safety, the wheels feature a reflective trim.  Other safety features include hand operated brake system and a safety tether.
Product Weight: 26 pounds
Front Wheel: Fixed
Handlebar: Adjustable
Wobble-free front wheel
Light weight aluminum frame
Safe run
Customizable stride
Hard to fold and store
Bulky
The Evenflo Charleston Jogger is one of the cheapest good quality baby joggers out there.  It offers smooth performance regardless if you're running, jogging, power-walking, or just taking a stroll.  It comes equipt with a swivel-lock on the front wheels for jogging and multi-position handle for a fit that works for you!
This jogger features a full coverage canopy to shield your baby from the elements and a parent window so you can peek through to check on your baby.  Below, a large storage basket allows you to take essential baby supplies with you.
Product Weight: 25 pounds
Front Wheel: Swivel with Locking Mechanism
Handle Bar: Adjustable
Affordable
Multi-position recline
Adjustable handlebar for parent height
Light brake
All-terrain suspension system
Can't secure view window flap
Flimsy cup holder
No car seat adapter
If you don't mind paying an arm and a leg for a fantastic quality product, Phil and Ted's Sub 4 World's Fastest Jogger will not disappoint!  It's expensive for a reason.  It's equipped with dual braking system at the handbrake which allows you full control during running.  For stride, this product has a low center of gravity and perfect weight distribution.
To allow you control over motion, the Sub 4 has a motion control hub which is hyper-responsive to your motions.  It's an efficient baby jogger with large wheels allowing for more traction and a system that allows you more control.
This high tech product is definitely worth the buy!
Product Weight: 35 pounds
Front Wheel: Fixed
Handle Bar: Adjustable
Maximum control
Reduced roll resistance
Full suspension for responsive frame flex
High weight capacity
Ergonomic design

.
Compare and Choose
We've put this table together for you, to help you choose which of the Best Baby Joggers is right for you!
Product Name
Image
Price
Features
Amazon Rating
Schwinn Turismo Swivel Single Jogger
$$$$
Dual trigger folding, child tray, dual cup holders, manual locking, canopy mounted speakers, car seat adapter.
★★★★

BOB 2016 Ironman Jogging Stroller
$$$$$
Increased stability, lightweight aluminum alloy wheels, adjustable padded handlebar, suspension system
★★★★★
BOB Revolution Flex Stroller
$$$$$
adjustable padded handlebar, swiveling front wheel, two-folding, lightweight frame, adjustable suspension system, reclining seat for comfort
★★★★★
Thule Urban Glide
$$$$
swivel front wheel, ergonomic handlebar, travel system, padded seat with vented top, reclining seat
★★★★★
Baby Jogger 2016 Summit X3 Single Jogging Stroller
$$$
quick fold technology, front wheel lock, all wheel suspension system, hand operated rear brakes, sun canopy
★★★★★
**Editor's
Choice** Burley Design Solstice Jogger
$$$$
one-handed fold, padded handlebar, padded seat, extendable canopy
★★★★
Kolcraft Sprint Pro Jogging Stroller
$$
wobble-free front wheel, precision ball-bearing rear wheels, reflective wheel trim, parent try with cup holders and storage, adjustable smart handle
★★★★
Evenflo Charleston Jogger
$
multi-position recline, parent window for baby viewing, removable arm bar, adjustable footrest, single touch brake, full coverage canopy, large storage basket
★★★★
Phil & Ted's Sub 4 World's Fastest Jogger
$$$$$$
premium running stroller, 3-wheel design, precision wheels, reduced roll resistance, one-hand dual disk brakes, full suspension, torsion control bars
★★★★
Safety First!
As always, we wish to encourage you to practice any and all recommended safety measures when using baby products.  Here are some Baby Jogger safety tips:
Talk to your pediatrician to confirm that your baby has reached the appropriate physical developmental levels to handle a jogger.  Typically, manufacturers will recommend the use of joggers for infants over 6 months of age.  For younger infants, jarring bumps or potholes can cause serious injury if they are not physically strong enough to handle these movements.
Ensure that the jogger and all wheels are properly secured and locked into place before putting your baby into the jogger.
Ensure that baby's safety harness is properly secured.
Be fully aware of your surroundings when jogging with your little one.  You should avoid using headphones, especially when running near a busy street.  You'll need to hear what's going on around you.
Keep proper maintenance of your jogger.  You should regularly check tire pressure, alignment, and check for loose parts.
Conclusion
Hopefully, you've found some of these baby joggers to be useful for your needs as an active parent. Sometimes you don't want to leave your baby with a babysitter just for you to take a jog.  This will solve all your problems.  Enjoy your new baby jogger and don't forget to let us know how this post helped you in making the decision to buy one in the comments below.
Check out these great articles too