👋 Hey! Before you read the article we just wanted to say thank you. Your on-going support, love and feedback on our articles as well as browsing our independently picked recommendations (which earn us a commission and help pay our passionate writing team) keep this little independently owned business going. So again, thank you. We look forward to showing you the magic we can bring in 2018!
What are the best Baby Monitors with Cameras?
The Origins of the Baby Monitor
Did you know that the first baby monitor was created by the Zenith Radio Corporation in 1937? In 1932 the unthinkable happened when the Lindbergh baby was kidnapped from his own nursery. The country was shaken as people everywhere desperately tried to help find this baby, while also turning to their own families and seeking better ways to keep them safe.
This rattle of emotions was not lost on Zenith president, Eugene F. McDonald Jr. who began testing radio prototypes in his own daughter's nursery. In 1937 Zenith Radio Corporation officially released the Radio Nurse, the world's first baby monitor. While the product didn't sell very well due to cost and concerns about radio frequency interference, the Radio Nurse still holds the title as the first ever baby monitor.
Capturing a Generation
It wasn't until the 1980's that the baby monitor re-emerged and suddenly became a must-have item for nurseries across the US. How did this happen? The Fisher-Price brand drew national attention when they released the Nursery Monitor, boasting about its ability to allow mothers to 'be in two places at once'.
The design offered an AC adapter for easy charging. It also sported a clip on the back of the receiver that allowed parents to fasten it to their belt and move around the house hands-free. The Nursery Monitor was a hit and soon after multiple brands jumped on the bandwagon trying to streamline the baby monitor design in order to gain the title of the best baby monitor.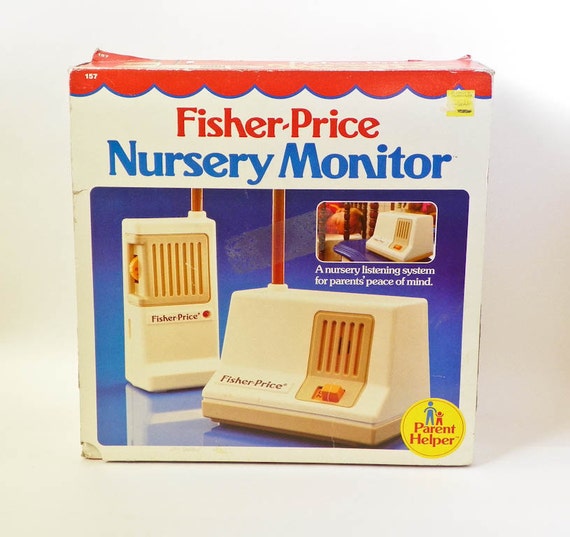 The New Standard
30-years ago parents were thrilled to have a monitor that moved around the house with them. But let's get real. This is the 21st century and our expectations are a bit more advanced. Today we not only have perfectly audible baby monitors, but the new standard is to also have a video monitor.
A baby monitor with camera not only allows parents to hear if their baby is crying or in distress, but it also allows them to see what position baby is laying in, if they are near something unsafe, if they've dropped their pacifier or bottle, and much more.
Expect More From Your Monitor
Baby monitors do so much more than just let you know if your baby is crying. Today's baby monitors offer features like SIDS prevention, where sensors actually monitor your baby's movement and breathing rate. If the baby does not move or breathe in 20 seconds an alarm sounds alerting you to check the baby.
Sensors
Other features that are becoming more common are temperature sensors. These sensors monitor the temperature of your baby's nursery and will tell you if it is too hot or too cold in the nursery. It's like having your own personal Goldilocks watching over your baby to ensure maximum comfort.
Line of Sight
What about knowing what's going on with your child once they are mobile? Your baby won't be a baby forever, so why not have a monitor that grows with your child? This is why baby monitors with cameras are extra awesome.
While I didn't have to worry too much about what my baby was up to when I laid him in his crib as an infant, I certainly had to watch him like a hawk when he started walking, and climbing, and trying to eat everything in sight…
When looking at monitors with cameras, consider getting a product that offers a 360-degree radius, or a multi-camera system that can give you a full view of your baby's room. While it may not seem like much of a necessity when your baby is a newborn, once they hit the year mark and start becoming independent movers, you will want to see every inch of floor space in the room. Trust me on that!
Receiver Range
Something important to remember when picking a baby monitor, whether you want a camera unit or a more traditional sound only unit, is the receiver range. This information is crucial when picking your baby monitor. Some units are only designed to have the transmitter and the receiver 100-feet apart. Other units can be 500-feet apart.
Why does this matter? Because if the units are outside of the designated range they won't be able to communicate with each other, and hence, they won't work. The entire point of having a baby monitor is to monitor your child, but if the receiver can not pick up the transmitter's signal, you won't be able to monitor anything. Point being, read the product specs fully and pay attention to the design of your home when choosing a baby monitor.
Want some more insight on how to choose the right baby monitor with camera options? Check out this helpful video put together by Amazon!
Best Baby Monitors with Cameras
Now that you know a little more about the best options to consider when choosing a baby monitor, here is our list of the best baby monitors with cameras. These products were chosen based off of features, viewing options, and ease of use.
360-degree viewing
Motion detection
Records images
Push-to-talk and music options
Hardwire, plug-in only, no battery option
Not Portable
300-degree viewing
Mobile app compatible
Records images
Must be positioned in corner to reduce non-viewable space
Sensors monitor temperature and motion
Push-to-talk
Camera has wall-mount and table top option
Must be positioned in corner to reduce non-viewable space
Sound-activated monitor
Interchangeable lenses
Battery life is 10 hours
Must be positioned in direct line of sight
Compatible with up to 4 cameras
Monitor offers split screen options
Battery life is 12 hours
Multiple cameras needed for full viewing of room
Wondering how these monitors measure up next to each other?
Check out our easy to read chart and see which products earned our coveted Editor's Choice!
Being a modern parent is pretty awesome when you consider the advantages we have today. Technology has made parenting easier than ever, but in some cases, it has also made it harder than ever. (That's an entirely different article!) Using a baby monitor with a camera feature is certainly an advantage that allows you the peace of mind of keeping an extra set of virtual eyes on the baby.
No matter how many safety options we build around our babies, there is nothing that can replace the physical security that comes with being right next to baby 24-hours a day. But the reality is that we have other responsibilities- other kids, chores, hygiene, what have you- that do require us to step away for a few moments here and there. Buy your favorite baby monitor with a camera today and never take your eyes off of baby!
Like what you see?
Check out these helpful articles for more great tips on what items to snatch up for your growing household!