👋 Hey! Before you read the article we just wanted to say thank you. Your on-going support, love and feedback on our articles as well as browsing our independently picked recommendations (which earn us a commission and help pay our passionate writing team) keep this little independently owned business going. So again, thank you. We look forward to showing you the magic we can bring in 2018!
What Are The Best Nursing Bras?
Finding the best nursing bras can be a bit overwhelming.  Bras differ in many ways; style, size range, support, material, shape, and more.  Some bras are good for day-to-day comfort.  Others are made for dressing up for an evening out.  But for breastfeeding moms, finding the right bra adds in another factor: how easily can I nurse my baby?
Whether out and about or right at home, breastfeeding moms want a bra that's going to give them the proper level of comfort and support, while allowing them to easily nurse baby wherever they are.  Every woman's bra preference differs, and while there are many nursing bras on the market today that can fit any style, size, or preference, choosing between the wide range can be overwhelming and daunting.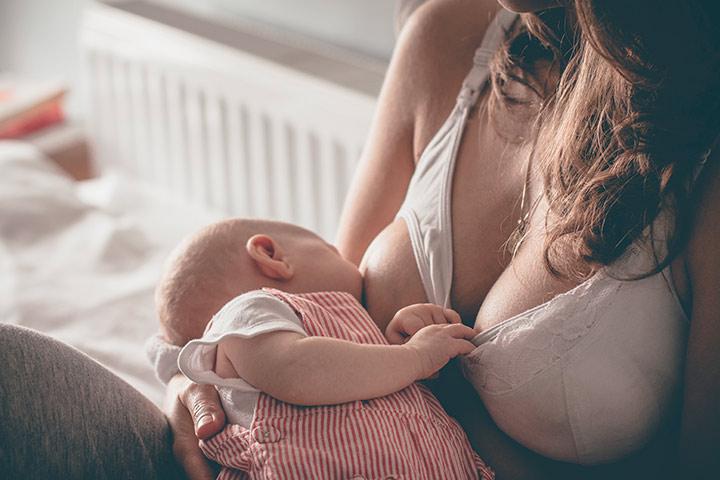 Shopping for a nursing bra doesn't just come down to comfort and convenience during breastfeeding, either. Even before your little one arrives and you begin nursing, pregnancy itself takes a toll on your bust. Your breasts begin to enlarge long before your baby is born, and increased hormone levels cause changes in breast tissue.  Swelling, soreness, and increased sensitivity to touch can be experienced during pregnancy.
Because of this, most nursing bras are made for use during and after pregnancy.  These bras are designed to give pregnant moms some relief from the uncomfortable symptoms of pregnancy that affect the breasts.
So how does one choose? Don't worry, we're here to help, Mama!  Don't spend hours poring over websites or store shelves to find the right one for you.  Sit down, relax, and let us show you the best nursing bras!
Choosing The Best Nursing Bra
When choosing a nursing bra, there are several things to keep in mind to help you find the right one (or ones) for you.
Bra Size: Unfortunately, not all bra types are available in every size.  Some bras are designed for smaller sizes, while others are for plus size only.  Most bras will come with a fitting guide to help you select the proper fit for yourself.  Keep your bra size in mind when choosing a nursing bra.
Style: Are you looking for a comfortable, every-day bra?  Or something that will support and shape your bust?  Are you looking for a stylish lingerie-style bra? Maybe you are looking for several different styles for different occasions.  Everyone's preference is different.  What's yours?
Wire or No Wire: Underwire is an excellent tool for support, and while some women are not bothered by it at all, some find it uncomfortable, especially during pregnancy and nursing.  Consider your level of comfort when choosing a nursing bra.
Material: When choosing a nursing bra you will want to look for material that will stretch with your bust.  Your breast size will vary a bit day to day and hour to hour, for obvious reasons.  Material that provides comfort, shape, and stretch are things you will want to look for in a nursing bra.
The Best Nursing Bras
Here's our list of the best nursing bras that fit any preference and budget!
This ultra-soft bra is ideal for everyday wear. It combines comfort and support with soft, double layered fabric and a wide inner sling.  Removable cups allow you to adjust the shape to fit your body.  This bra keeps its shape and structure thanks to carefully placed strength panels.
Sizes: B-FF
Underwire: No
Material: Nylon and Elastane
Access: Drop-Down with Clasps
Shapes and supports
Soft and comfortable
Wide inner sling
Removable cup pads tend to shift during use
This bra is adorned with lace accents, so you don't have to give up style for comfort.  The underwire in the bra is one of a kind.  It was created by the Bravado designers to move with you.  While most underwire is quite rigid, this wire is flexible, giving you support without the discomfort.
The cup of the bra is designed in such a way that the wire will not get in the way of the drop-down access for nursing.  This means that the wire will not prevent you from fully uncovering your breast.
These features combined with the petal-soft ultra-luxe fabric that Bravado offers make this bra a great choice for nursing moms!
Sizes: B-H
Underwire: Yes
Material: Nylon and Spandex
Access: Drop-Down
Stylish lace accents
Flexible underwire
Comfortable and supportive
Door requires two hands to open
Wide-set cups may cause support issues for cleavage area
This bralette provides smoothing coverage and is comfortable enough to wear during the day or at night. It gives just the right amount of support where you need it and is versatile in functionality to support expanding ribcage during pregnancy and breast size fluctuation.
Sizes: B-F
Underwire: No
Material: Nylon and Lycra
Access: Pull-Aside
Ideal for every day wear
Comfortable enough to sleep in
Smooths and supports
Adjustable to accomidate breast size fluctuation and rib cage expansion
Stains easily, not ideal for "leaks"
Enjoy comfort, support, and style all in one with this lace-overlaid nursing bra.  Bright colors and scallop-topped cups give this bra a little something extra.  Bagged-out cups offer support for your breasts rather than an uncomfortable underwire, and the internal A-frame offers added support while nursing.
Sizes: D-HH
Underwire: No
Material: Nylon, Polyester, Elastane
Access: Drop-Down
Stylish
Bagged out cups and inner A-Frame for support
Comfortable
Cup shape tends to give breasts a "pointed" look
A perfect blend of fashion and practicality.  This Bra offers seamless cups to accent your natural breast shape, as well as supportive underwire.  The KwikKlip system makes it easier than ever to access your breast for nursing your little one.  Supportive and comfortable materials make this nursing bra a great fit.
Sizes: B-J
Underwire: Yes
Material: Microfiber, Elastane, and Nylon
Access: Drop-Down
KwikKlip easy drop-down access
Stylish and comfortable
Supportive
Band under cups sometimes folds over with larger breasts