👋 Hey! Before you read the article we just wanted to say thank you. Your on-going support, love and feedback on our articles as well as browsing our independently picked recommendations (which earn us a commission and help pay our passionate writing team) keep this little independently owned business going. So again, thank you. We look forward to showing you the magic we can bring in 2018!
Welcome to the world of the best baby carriers!
Being a mom on the go is hectic and choosing the best baby carrier is just one more thing to figure out. Most days you're juggling baby, a diaper bag, your car keys and your coffee on your way out the door while asking yourself if running late counts as your cardio for the day.
We love to snuggle our babies, they love being held close – but this often means we're carrying our baby around for hours at a time, and that can be exhausting.
Baby wearing is the answer!
While baby jumpers and strollers come in handy – nothing is quite like mom's touch. Whether you're a new or more seasoned mom – we all love holding baby close.
The only inconvenience can be the weight and strain of carrying children as they grow. So, you start to look into buying a baby carrier.
With so many different kinds of baby carriers to choose from, it can be a little daunting.Where do you start?
Start here! We're here to help you pick one..think of this as your guide to baby carriers!
Listed below are some recommendations, a few pros/cons of each baby carrier and some other great information about choosing a baby carrier.
BABY WRAP (WRAP AROUND BABY CARRIER)
This is likely the simplest type of baby carrier you can find, and there are many different versions of the baby wrap.
The basic idea is a long piece of material that you can transform and wear in many different styles taking into consideration how heavy baby is, what you're wearing and how you're most comfortable distributing baby's weight.
The thing that makes baby wrap around carriers stand out is their versatility and ability to turn into just about any kind of carry for you and baby. However, this also means learning to properly do different kinds of ties for the wrap. This can take some time – but once you have the idea of it, it becomes fairly simple.
We have linked a video down below with a few different instructions on how to tie this wrap in several positions.
Versatile, almost endless positions for baby!
Can adjust with you as you get back to your pre-baby body. Finding a way to carry your baby that suits your body type (at any given time).
Compact – can easily fit into a diaper bag or bottom of a stroller when not being used
Can be complicated to learn the different positions/wraps that are possible
May need to be taken off completely to be re-positioned
A lot of material, may be difficult to put on in some places (like on a bus or train)
Baby wraps can be used as frontward facing, backward facing and worn on both your front or your back. Really, this is the most adaptable choice and gives you the most options.
OUR RECOMMENDATION: the MOBY WRAP 
Likely the most well-known brand of baby wrap, Moby wraps never disappoint!
This 100% cotton, comfortable wrap includes easy to use instructions on the different positions to carry baby.
The best thing about baby wrap carriers are that they use your entire back and your shoulders to carry the weight of your baby – less strain for you means more snuggle time for baby!
ASIAN-STYLE BABY CARRIERS (ABCs)
The most common baby carrier that falls into this category would be a Mei Tei carrier. The Mei Tei comes in many different styles and has been praised for it's comfort (to both you and baby) – however, the thing the Mei Tei is most known for is security.
Perfect for newborns (no insert needed) and baby is fully supported
Adjustable, can have baby in more than one position (front outward, hip or back carry are most common)
Can support from 7-45 lbs, meaning you can continue to use as your baby grows
Need to take baby out of carrier to breastfeed
Limited designs
Can be difficult to do if you're alone
OUR RECOMMENDATION: the LILLE STRUCTURED
This versatile carrier offers ALL-IN-ONE, complete comfort for you and baby. Offering lumbar support, a headrest, a hood, zippered pocket,  generous padding and more.
AND it's machine washable. What more could you ask for?
SOFT STRUCTURED BABY CARRIERS (SSCs)
Soft structured baby carriers are known as the middle ground, the best of both worlds; offering the comfort of a baby wrap with the security of a more structured, supportive carrier.
This is the perfect option for moms who need the mobility and comfort of a wrap, but also rely on the security and peace of mind that more structured baby carriers can give.
Comfort AND security
Durable – can last multiple years, helping you with multiple children
Well ventilated and comfortable, soft material (while still remaining secure)
Very easy to use, could likely put on completely without assistance
Not as free in style and customization
Shoulder and back straps can get sweaty
More difficult to clean (not as machine-friendly as a freestyle wrap)
OUR RECOMMENDATION: the LILLE SOFT STRUCTURE 
This six-position baby carrier offers so many different options for you and your baby, is made from comfortable, breathable material and (we can't stress this enough) is SUPER durable.
Soft structured baby carriers (this one especially) are best known for their lifespan – so they're the perfect little investment for you and your baby.
SLING BABY CARRIERS
Sling baby carriers are a wide piece of fabric that goes over one shoulder and across your front – meaning your torso carries most of the baby's weight.
A sling carrier is easily adjustable, and much like the baby wrap carriers, they offer comfort while still being flexible and adaptable.
The difference is in the rings! The sling rings help adjust your positioning and makes a deep little pocket for your baby – allowing for a way to keep your baby more secure than in a regular wrap carrier.
Most slings comfortable for babies up to 40 lbs
Less slipping down/moving out of place problem than with a baby wrap, because you can keep adjusting the rings as you need
Super easy to breastfeed
Offers lots of privacy for yourself and baby while breastfeeding without taking it off!
A bit complicated to put on
Difficult to use if you're carrying other bags/backpack
May be difficult to put on when by yourself
OUR RECOMMENDATION: the VLOKUP BABY RING SLING
This (machine washable, easily stored) ring sling is perfect for on the go mom because there is so much you can do with it, without even taking it off.
The adjustable rings allow you to adjust your baby's positioning and even breastfeed without having to undo the entire sling.
Now that you know all the types of baby carriers available, here are some considerations you should take when trying to decide what type you should purchase.
7 Things to Consider When Buying a Baby Wrap: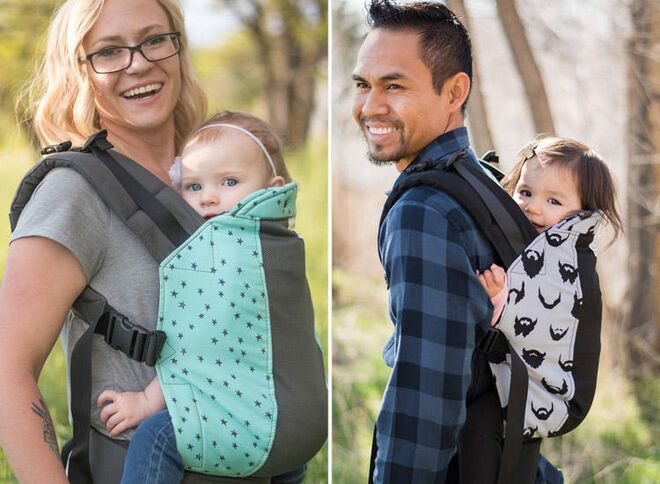 What kind of baby carrier will be most comfortable for you and your baby?

Do either of you have any special physical needs that will hinder you from using a certain kind of baby wrap? 

Purchasing a baby carrier that suits your physical needs and the physical needs of your growing baby is the most important thing you can do. If you have any health/physical concerns, perhaps discuss the purchase with your doctor.

Will you use this baby carrier only for your newborn?

Are you interested in using one single baby carrier throughout all of your baby's stages – or are you open to buying different carriers as time goes on?

Is it easy to clean/store/take with you when you need it?

There is nothing worse than carrying extra bulky things in your diaper bag! You are already stuffed to the brim with diapers, snacks and baby food – if you're a mom on the go, you may want to consider a more compact/easy to travel carrier.

What climate do you live in/how will the baby carrier be worn in different seasons?

Some baby carriers are simply too warm for the warmer climates/hot summer months.Taking into account where you live/where you will use this baby carrier the most, you can then determine which kind suits you best.

Do you want to be able to breastfeed your child while wearing your baby carrier?

Are you a breastfeeding mom who needs a bit more privacy (and wiggle room) out of the carrier you buy? Some types (like the ring sling baby carriers) are made for exactly that!

Is this baby wrap easy for you to use/put on when you're alone with baby?

Some carriers require (or are easier) to put on when you have someone helping you. Is this a carrier you will be able to use with ease, anywhere you need?

What will you be doing with the baby carrier?

If you're a more physically active person, you may need a sturdier, more durable carrier. Maybe you would like to buy two separate carriers – one for home and one for when you and baby decide to be a little more adventurous.
How You and Baby Can Enjoy Your New Baby Carrier:
Be sure your baby is well rested and well fed before you attempt to put them in the baby carrier for the first time. We want this to be a positive and fun experience for them.
If your babe is fussing or feeling anxious one day, put them in the carrier and go for a nice little walk. The fresh air will help clear mom's mind while the movement and warmth from mom will soothe baby – win/win!
Don't worry if your baby looks scrunched up! As long as you're following the instructions for use (and have baby in an approved position), put your mind at ease! Babies love to be wrapped tight and warm.

Use your best judgement. If, however, your baby looks too uncomfortable or really doesn't enjoy their time in the wrap – maybe try another model/type.
Your baby won't love every single position – and they will have a favorite! It's totally natural for a baby to prefer to be held in a specific way – so if your baby seems unhappy, try to change it up!
Baby wearing can also have positive effects on mom! Having your baby close while still being able to perform everyday tasks (like grocery shopping or the dishes) will make you feel like you're super-mom!
Don't be afraid to use the baby carrier around the house! Most babies get so comfortable in their baby carriers that they are asleep within minutes – so if you're having "one of those days" with baby – give this a try and take a few laps around your kitchen.
Baby Carriers Aren't Just for Mom! 
That's right – move over mom, let dad have a go! There are plenty of ways dad can help, and this is one of them!
And contrary to what he may think – baby wearing can be something dad's do without being embarrassed.
Baby wearing isn't just a woman's game anymore!
And with a little coaxing from mom about how much you appreciate his help (and how good he looks while wearing the carrier) – I am sure your man will be strutting down to the park with baby carrier on in no time!
If you're getting tired or baby simply needs a little change, have your spouse take the baby for a walk in the baby carrier. You will be surprised at how happy it makes your little one to look up from their snug little carrier to see dad's face!
This also adds a positive effect for the father of your baby. Mothers – they connect quickly to the baby. It may not happen instantly, but we have had 9 more months to get to know that little baby, so it's natural that dad feels a bit behind in the bonding time.
Having dad use the baby carrier is such a great way for dad and baby to bond and feel that close connection.
Now that you are well-informed on everything baby carrier, we hope you can confidently make the best choice for you and your baby.
Did you like this post? Check out the articles below for more!